Hey you, gluten-free, dairy-free foodies! I'm starting a weekly blog series, "Budget-Friendly GF, DF Recipes," featuring ingredients from Trader Joe's. Follow along each Sunday evening as I release a new Celiac approved recipe to the blog.
This week, I'm sharing mine and M's current craving—GF, DF Chicken Fried Cauliflower Rice. This recipe is easy to make, healthy for all, and absolutely delicious. Not to mention, we usually have leftovers for days!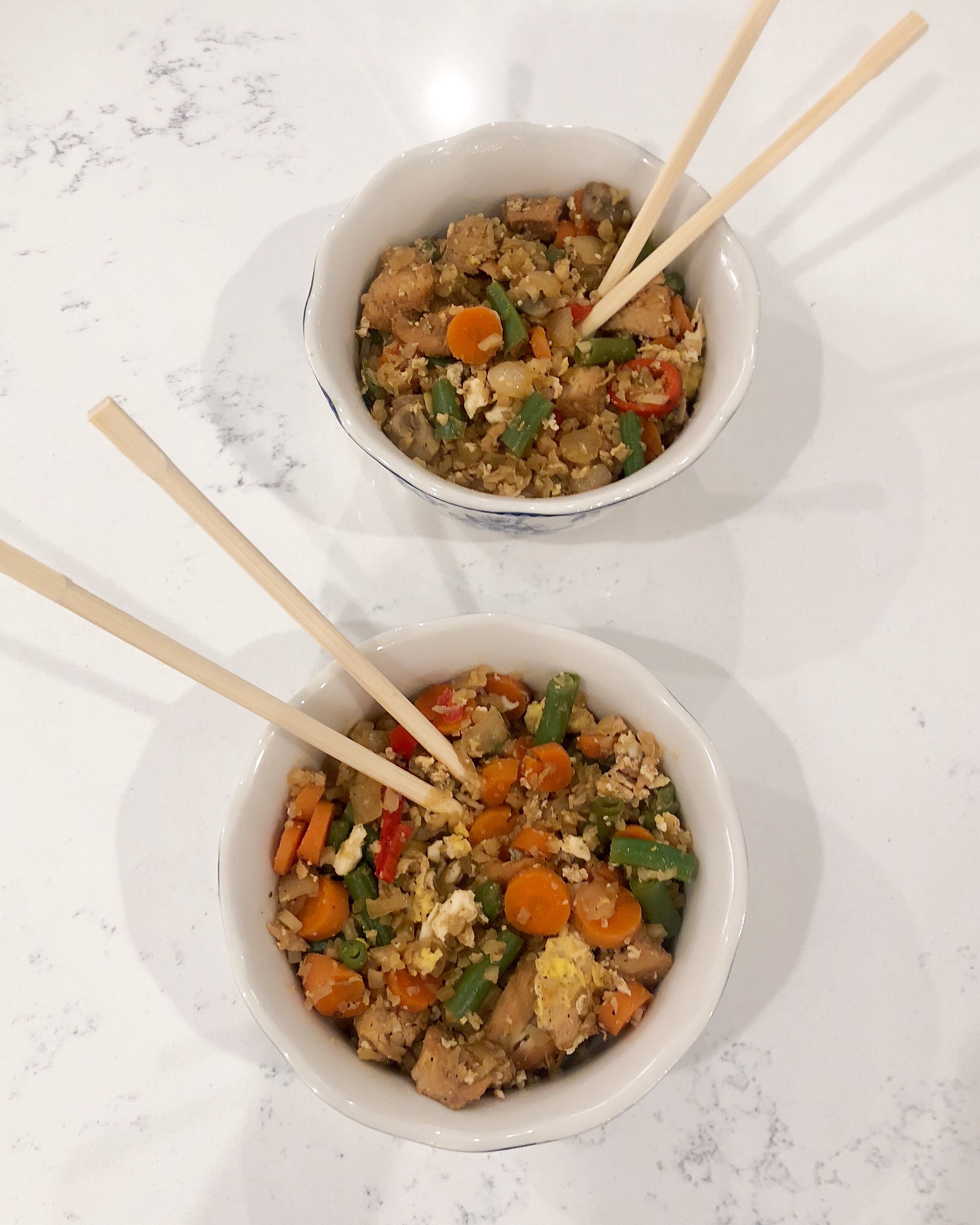 Ingredients:
– 4 Ib. Boneless, Skinless Chicken Thighs (I buy my meat elsewhere, certified gluten-free)
– 16 Oz. Fresh Cauliflower Rice
– 1 Ib. Sliced Fresh Carrots
– 1 Ib. Sliced Green Beans
– 1 Chopped Yellow Onion (Large)
– 1 Sliced Red Pepper (Small)
– 16 Oz. Sliced White Mushrooms
– 4 Chopped Garlic Cloves
– 4 Large Brown Eggs
– 3 Tbsp. Coconut Oil
– 1/3 Cup + 1 Tbsp. Organic Coconut Aminos
– 2 Tsp. Pink Himalayan Salt
– 2 Tsp. Lemon Pepper
– 1/2 Tsp. Crushed Red Pepper (optional for extra spice)
Directions:
Marinate meat in a gallon plastic bag with 1 tbsp. organic coconut aminos, 2 chopped garlic cloves, 1/2 tsp. crushed red pepper (optional for extra spice), 1 tsp. pink Himalayan salt, and 1 tsp. lemon pepper. Let the chicken marinate in the refrigerator for 1-2 hours.
Meanwhile, slice all of the vegetables—carrots, green beans, onions, mushrooms, red pepper, and garlic. Once the meat is ready to cook, bring a large frying pan to a simmer on medium heat with 1 tbsp. of coconut oil. Add chicken thighs and allow to cook fully. Afterward, dice up the meat and then throw it back on the pan with 2 more tbsp. of coconut oil + the chopped veggies and cauliflower rice. Also add 1/3 organic coconut aminos, 1 tsp. pink Himalayan salt, 1 tsp. lemon pepper. Cover the pan for rough 15-20 minutes, while turning the ingredients every once in awhile, until the veggies begin to soften. *Add more coconut aminos as needed. Then, crack the 4 eggs on top and allow to cook 1-2 minutes before mixing in. After another 1-2 minutes, it should be ready to serve.
Add chop sticks + GF soy sauce if desired.
—
XO,
Faith