See my Gluten-free, Dairy-free Baked Salmon & Spaghetti Squash recipe below!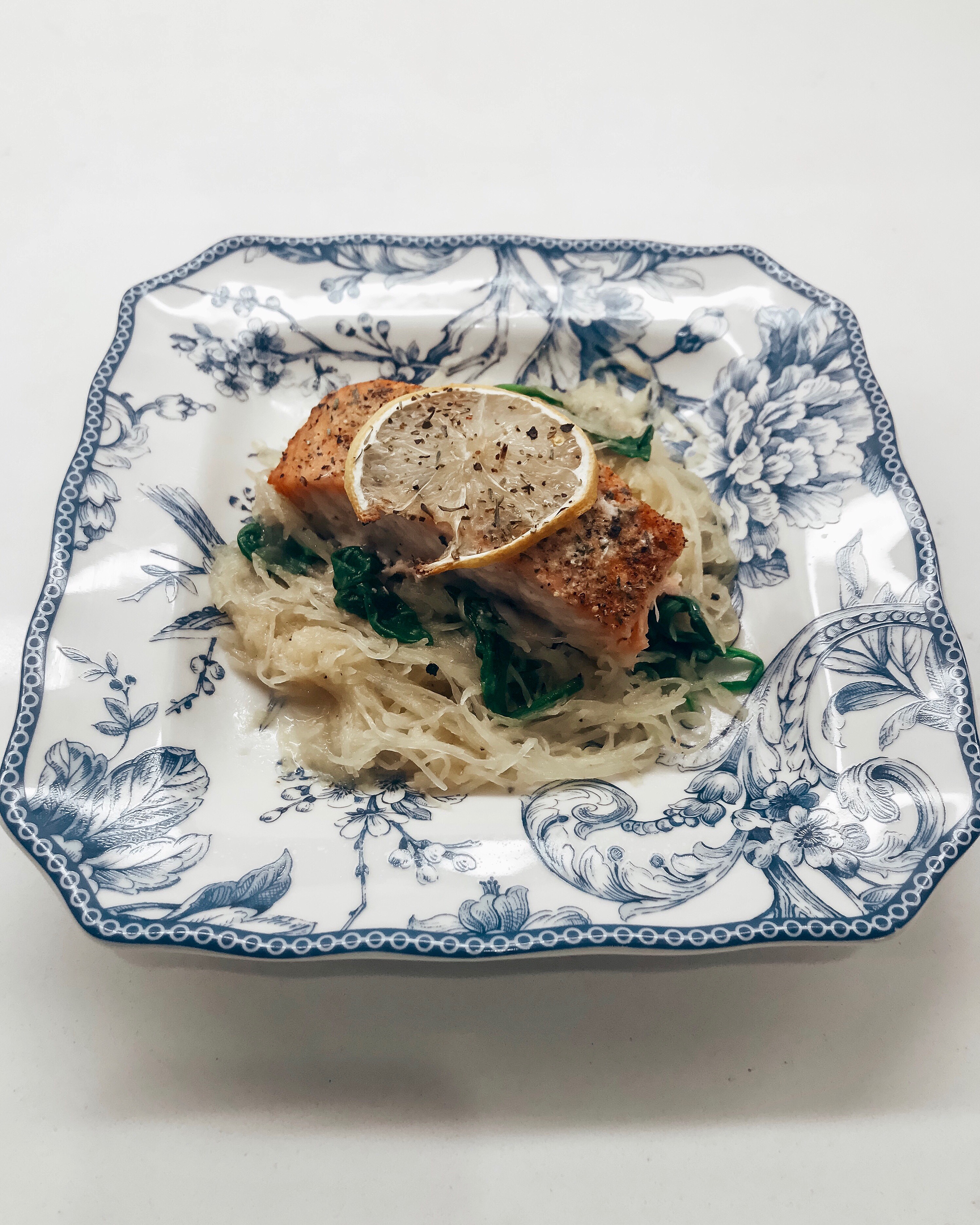 Ingredients:
2-4 Fresh Salmon Filets
1 Sliced Lemon
1 Large Spaghetti Squash
2 Cups Fresh Spinach
2 Tbsp. Minced Garlic
2 Tbsp. Pink Himalayan Salt
2 Tbsp. Cracked Pepper
1 Tbsp. Ghee Butter
Olive Oil (to drizzle)
Cooking Instructions:
Set oven to bake at 400 degrees,
Cut spaghetti squash in half, scoop out the seeds, lay the two halves on a pan, and drizzle in olive oil on both sides.
Lay the halves face down on pan, and cook for approximately 60 minutes, until you are able to scoop out the noodles with a fork.
Around 50 minutes of remaining cook time, open oven and place fresh spinach in each halve of the spaghetti squash, and let cook for the remaining 10 minutes.
Once cooked, remove the spaghetti squash from the oven, use a fork to scoop the noodles into a bowl + add in 1 tbsp. of ghee butter, 1 tbsp. of minced garlic, 1 tbsp. salt, and 1 tbsp. pepper. Mix it all together.
Meanwhile, take the fresh salmon filets out and lay them on a pan. Drizzle olive oil, 1 tbsp. minced garlic, 1 tbsp. salt, 1 tbsp. pepper, and sliced lemons on top.
Bake the salmon filets in the oven on 270 degrees for approximately 20-30 minutes, until they flake a part with a fork.
Once the salmon filets are cooked, place the spinach & spaghetti squash on a plate and lay the salmon filets directly on top.
Bon Appétit!
—
XO,
Faith